As PTO President, you're able to juggle a lot of things at once.

You wouldn't have taken on the role, otherwise!

And because you're so smart, you know that you need to have on hand tools to make the job easier.

With new PTO Presidents, the question comes up is what are the right tools to have?

That's exactly what's being covered in this post!

This post will highlight ten forms you need as PTO President!

I'm breaking down the necessary forms into five different core focus areas all PTO Presidents should have, starting with…
Planning
The best jugglers have a plan for how they'll handle everything.

And because you're not just handling PTO stuff, you've got to work managing your family, home and work into the mix.

You need something to help you plan and organize your time!
Weekly To Do List
Enter this printable Weekly To Do List organizing page!

It helps you get more done each week by segmenting weekly activities into three areas:
To do
Calls to Make
Stuff to Buy
Use it for your personal tasks or for PTO tasks.

Better yet, combine every you gotta do into one comprehensive To Do list!
Idea Tracking Forms
Another key to success of the President's role is getting long range planning done for your PTO.

The most healthy and organized PTOs aren't just flying by the seat of their pants.

Instead of making up stuff as they go along, they have a plan. And they're sticking to it!

Part of creating that plan is to keep track of all of the good ideas you come across.

And that's where Idea Tracking forms come into play.
No longer will you lose track of good ideas for assemblies, fundraisers or anything else with idea tracking forms.

When teachers tell you about the fun new assembly, enrichment program or fundraiser, you'll have a designated place to track all the information!
In fact, one of the most popular programs our elementary school PTA ever put on was brought to us the PE teacher.

She had attended a conference and was so excited to share the possibilities she'd learned about, she literally stopped me in the hallway to discuss them!

Right after we met, I wrote all of the ideas down and then presented the options to our members the following month.

It was great to have the full list to reference and present for discussion!

And the following year, I went back to the list to see what other programs we could implement.
Meetings
Every month, there's the necessary work of holding general membership meetings or executive board meetings.

As President, your job is to not rule over the meetings.

Instead, facilitate discussions and ensure the meeting agenda is followed.

Also track decisions made during the meeting, from both formal votes and also discussions.
Meeting Notes
Good meeting notes ensure that you're not forgetting to do something that your PTO decided to do during the meeting.

And a Meeting Notes form makes taking details and organized notes possible!

See how the different areas of action are all laid out?

Such a simple, but effective way to stay organized.
Volunteer Sign Up Form
The next form you'll want to have on hand as President at PTO meetings is another simple one.

I can't tell you how many times I've seen a volunteer sign up sheet scribbled on the back of a paper pulled from the recycling bin.

Whats worse, the sign up sheet doesn't have the necessary details for parents to know if they even can volunteer!
That's why I recommend having this particular type of Volunteer Sign Up Form on hand.

Look at the space to note all of the event specifics…

When this sign up sheet gets passed around the room during the meeting, parents won't interrupt to ask "When is this event again?"

All the details are spelled out on the sign up form itself!
Finance Management
Another core responsibility for PTO Presidents is helping to oversee the finances of the PTO.

Of course the Treasurer is primarily responsible, but the President should be a signer on the PTO bank accounts and have access to all banking information.

And the President should have access to the account specifics as well.
Account Information
This Account Information Tracking Form makes it easy to have all of the bank account information on hand.

Write it down now to have it on hand when you need it.

That way when the Treasurer get sick and you have to run to the bank to withdraw cash for the concession stand, you'll know that you have to get there before 5 when the bank closes!
Password Tracker
Similarly, it's a pain to get locked out of PTO accounts because you've forgotten the password!
Make note of all the services your PTO uses in one place, on an Password Information Form:
Bank account
Email service
Google Drive
Evite
Social Media accounts
Payment processor (Paypal, Cheddar Up, Square, etc.)
Having everything in one place is important for a few reasons:

1. No more wasting time resetting passwords you've forgotten.
2. Avoid having to set up new accounts because you've been locked out of the current ones.
3. Makes it easy to see what services your PTO has an account with.
Too much information gets lost during officer transition time if it's not written down.

Take for example, my PTA's experience earlier this year: we decided to start accepting credit cards for payments for everything from membership to fundraising and events.

The Treasurer signed up with a company, only to find out later that a former Treasurer three terms ago had already signed up for the same service! Oy!

Everything was a mess for a while until she got things straightened out.

If the service had been noted on the the Password Information form, there would've been none of this hassle!

Events
Next on the plate for PTO Presidents is event planning!

This next concept was a game changer for me and my PTA…
Event Tool Kit Checklist
I was President of a lower elementary school and we were a really active PTA. We had a family fun event at least once a month. There was always something to do.

And before each event, I would make a list of everything I needed to pull together.

But sometimes I would forget something.

Then I'd have to call my husband to ask him to grab a pair of scissors or some packing packing tape to bring to me when he came up to the school.

It was annoying to make the list each time, but even more annoying to forget thing!

Enter the master Event Tool Kit List!

Instead of having to recreate a supply list each time, I put together a master list on the computer.

Then I laminated it and used a sharpie for a perpetual list!
Event Budget Planner
Staying on budget is another job for all PTO Presidents and leaders.

Why wing it when you can track the details?
I love to have a firm handle on events I'm planning.

So this Event Budget Planning form has been super helpful to me over the years I've served as PTO president!

Event Planner + Summary
Last in the event planning area, set yourself up for success by taking time to write down all the details that went into planning your events for the year!

And this is for the benefit of not only for future Presidents, but also yourself…

Because when next year rolls around, you might not remember how many cookies you ended up getting for the dance.

Or the name of the really good DJ you used could slip your mind!
But that's only if you don't have an Event Summary Form to help guide you.

This form acts like a planning cheat sheet.

There's space to note all the little details that made the event work inside.

So you don't have to waste time re-creating the wheel!
Big Picture Organization
Last, let's talk about the big picture of what's going on in your PTO.

PTOs who have their stuff together and are a healthy, well functioning group have one thing in common.

The have a good handle on the big picture and track information that'll help them improve year over year.

Groups that aren't as successful don't.
Here are a couple of forms that are essential for big picture organization:

Leader Contact Information Form
Keeping all the players straight is a task in and of itself!
And there's nothing worse than needing to reach out to someone in your PTO and not having their contact information.

It's not a good use of time to have to text another PTO officer to get contact information!

Eliminate the hassle with this Contact Information form.

You can fill it out yourself and then pass it around at the next PTO meeting for corrections.

Or you can pass the empty sheet around and ask for people to fill it in themselves.

Either way, make sure it gets done.
Board and Committee Summary Forms
You have other parents who've stepped up to volunteer or lead the PTO, and they've been working hard all year long.

They've developed programs and put new processes into place. And all of those details are impossible to remember.

That's why you have to get them to write them down!

They have to carve out time to document when they did.

That's how successful officer transitions begin: with the literal pass off of information.

And since the information is written down, they'll have a resource to refer to as they progress in their term.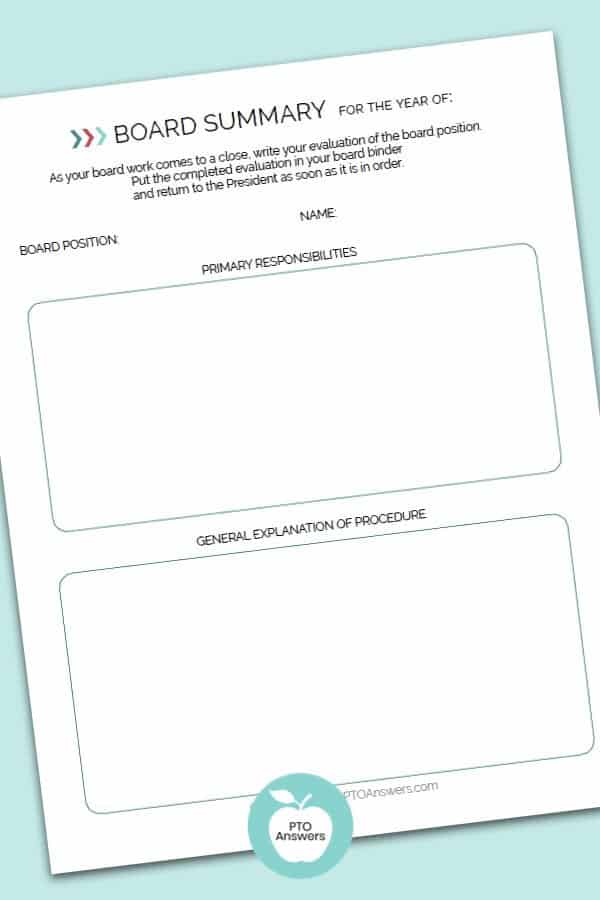 What's more, PTOs who have their stuff together and are a healthy, well functioning group have one thing in common.

The have a good handle on the big picture and track information that'll help them improve year over year.

Groups that aren't as successful don't take the time to evaluate programs and events.

Keep your PTO on track by not only filling out a Board Summary form yourself, but insist that each Board and Committee chair do this as well.

---
So now you have a clearer idea of 10 different ways to stay more organized and on top of your duties as PTO President!
Since you've read to the end of the post, you're probably interested in getting your hands on all of these great forms!

I've bundled them all up and added over 130 pages to form the President's Success Kit!

The kit has everything you'll need for a successful term to stay organized and on top of your game!

Check out what's included: