Over the years, I've served in the a bunch of roles in PTA land: President, Fundraising Chair, Family Events Chair, Membership Chair, Staff Appreciation Chair and more.

I'm not sharing this to brag, but to show what a relentless volunteer I am and the breadth of my experience.

And each of these different leadership positions have taught me how to be an awesome leader!

I thought it'd be helpful for me to share my pearls of wisdom, gleaned so that you can have an easier time too!

This isn't a definitive list by any means (you so don't have the time to read that!), but there are a few really important points to keep in mind!
Listen more than you talk
Being a PTO leader isn't a power thing.

It's actually a privilege to serve as a PTO leader because it means that others are trusting and counting on you to use your position wisely by listening to others.

Once you've heard what others have had to say, be sure to use that information when planning events or making decisions going forward.

When people don't feel you're listening to them, they're less likely to work with you.

And a few small-minded people, i.e. mean girls, may in fact try to work against you.

So heed this one piece of advice, especially!
Work cooperatively
Rome wasn't built in a day and it certainly wasn't built by just one person either.  

Any successful project or event needs to have a team working together, so don't ever try to do it all yourself.

I've always been able to find partners when I make specific asks for help.  

In fact, people feel like you truly want their help when you make the specific ask.

More on getting help from volunteers in this post.
Delegate wisely
Ask for help early in the process, and then use the help that is offered and delegate like a boss!

Don't assume that others won't help!

Many times people won't respond to the type of request that is a general all call: We need Carnival volunteers!

But they will respond if you reach out to them with a specific ask: Susie, will you help at Carnival by running the fishing game from 12-2?

Remember to never ask someone to do something that you wouldn't feel comfortable doing yourself.

Unless that something is public speaking!

Buuuuut… as a leader, you should get comfortable with doing that real fast because whether you like it or not, you're gonna have to do it.

Learn how to be a stronger public speaker in this post!

And because everyone needs help delegating the right way, check out the post.
Serve up Respect
Being a PTO Leader is hard enough without having to deal with the junior high antics that people sometimes resort to when stress levels are high.

If you want others to join in and help, you're going to have to suck it up, and be respectful, and maybe even gracious to people that you might not feel deserve it!

But remember, you catch more flies with honey, so start doling out the sweet stuff.
Plus in my experience, when people are rude, it's almost never about me.

It's all about them and something they're dealing with.

So try not to let other people's stuff affect you.

Just carry on with your bad self and be respectful!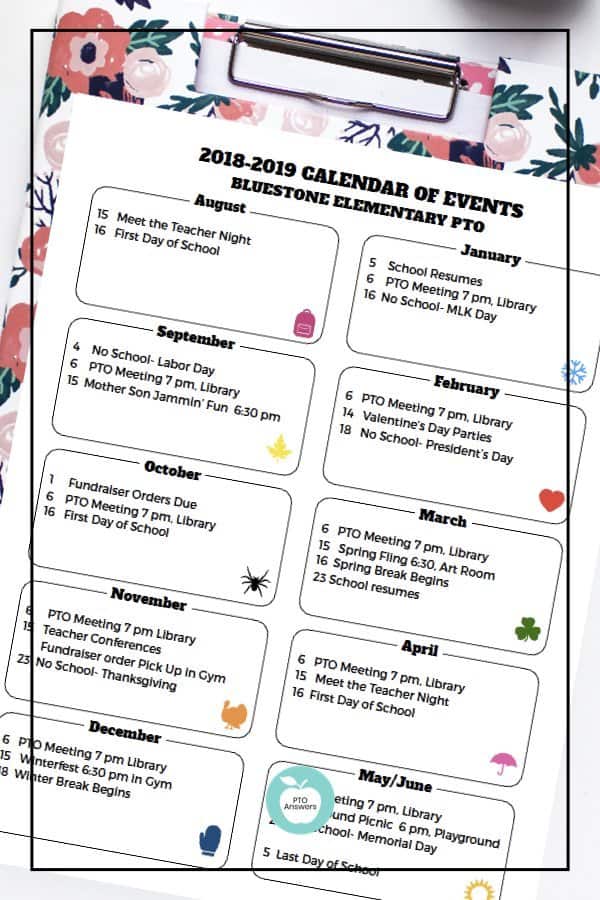 Communicate Clearly
Make sure events are clearly communicated so everyone knows the details of who, what, when and where.

If you don't have this position already, consider creating a communications officer who is solely in charge of getting to work out about events and programs.

When I get busy, sometimes this is the one thing I let slip sometimes.

It's easy to think that others know what you're up to when you're knee deep in planning or execution mode.

But remember to take the time to loop others into the process so they can help out too!

Get Organized
No one likes to deal with a hot mess, so clean up your act!

A fabulous solution to your organizational woes is this perfect President's Success Kit.  

It has everything you'll need to stay ahead of the game, including a ready to use planner to keep your binder totally organized plus all the forms, checklists and planning pages you'll need in your role!

There are even more binder kits for all PTO/PTA leaders available in my shop to get everyone in your group organized!
Watch this!
Over to you!
And there you have it! Follow these five tips to be an utterly awesome leader in your PTO or PTA!

What other tips do you have to be an awesome PTO/ PTA leader?

Let's chat in the comments!
Must have resources for all awesome leaders
The most prepared leaders gather resources to have right at their fingertips. And they share them with the other leaders and volunteers!

The Success Kit Bundle is a fabulous bundle of 29 essential resources for every volunteer in your PTO/ PTA!

The time and stress of hunting down the right resources is eliminated with this collection: everything you need is right here! Just add volunteers!
All Presidents will appreciate having an organized binder filled with essential information and an Insider's Guide to avoid common tripping points!

They'll also love the time savings from not having to recreate the wheel to make all the sign up forms and templates needed for the year.