Every year, my PTA throws an awesome school carnival!

It's one of the bigger, more involved events we do all year and it's both a fun-raiser as well as a fundraiser.

It's a pretty huge endeavor and it is the biggest event we put on as a group.

We've done it for so many years that it's pretty much down to a science!

Here's how we carnival!
Carnival Food
A carnival's not a carnival without food, now is it? Here's the usual menu of tasty offerings at our school carnival:
Pizza
Granola bars
Cookies
Chips
Pretzels
Goldfish crackers
Fruit snacks
Soda
Water
Juice boxes
Cotton Candy
Nothing too usual or startling here.

But it's how we obtain most of these items that may be different from what other PTOs do…
We ask for donations from families in advance of carnival and specify what we'd like from each class.

For example, we ask for granola bars from Kindergarten, a pack of juice boxes from 1st grade, packs of cookies or chips from 2nd grade classes, etc.

Each homeroom actually has a specific item that they are asked to bring in.
A volunteers collects and hauls all of the donations to the carnival site (we hold ours in the high school gym).

We set everything out on a table, organized by type of item and then families buy tickets for food.
You read that right!

We actually sell the donations back to families at the school carnival.

And you'd think that some parents would scoff at this concept, but nope.

We've yet to have an issue and it's been working like this for over a decade!
Of course, we offer an affordable lunch combo.

The combo includes slice of pizza, a side (chips, fruit snacks, etc.) and a drink for $2.

Maybe parents feel they are just paying a little extra for the pizza, who knows?

But since it works so well, no change is necessary!
The PTA's only out of pocket costs for these kitchen items are paper products, pizza and the supplies to make popcorn and cotton candy.

And in years when donations are light, we do purchase what we feel we have too little of.
How to Boost your Kitchen Profit
The kitchen part of the school carnival used to be break even for us and some years even a loss.

But then someone had the great idea of renting a cotton candy machine.

And now we make about $200-$400 profit from that one tweak alone!
But word to the wise: If you're going to rent a cotton candy machine, make sure the rental company delivers a WORKING machine ON TIME.
Year One of renting, the machine didn't work.
We lost about 25% of the time due to the amount of time before a replacement machine could be delivered.
Year Two of renting, they were an HOUR late with delivery.

I was none too pleased since I was on cotton candy duty both years and knew that these delays were killing our profits.
Year Three?  

Well, we finally got smart and decided to buy our very own cotton candy machine (affiliate link).  

Follow this link to see the exact machine I purchased.  

I also got the candy floss (affiliate link) from Amazon and the cotton candy cones offered on Amazon were competitively priced too!
The cost of the machine and consumable supplies was about double what we would've paid to rent it and buy the floss and cones.

But since we'll have the machine for the entire time of the carnival, we'll most definitely make our money back year two of having the cotton candy machine!
Carnival Games
We have a closet in one of the school buildings that acts as central storage for all of our school carnival games.

All PTAs in the district have access to the storage space and can use anything that's there.
The majority of our games are on the older side, but they're hand made, and are solidly constructed.

They're not cardboard games someone made out of a fridge box, so they're durable, won't break down during the event and can be used year after year.
Here are some of our school carnival games:
Corn hole
Ring toss onto 2 weighted liter bottles
Lollipop pull
Tattoo booth
Picture booth (huge hit with all the fun props)
Bowling
Mini golf
Penny Pitch (try to land a penny on a wobbly plate)
Plinko
All of these games have this in common- they're easy to do no matter the age of the child, so you can scale up the difficulty depending on the age of the carnival-goers.
Need more ideas for games and activities? Check out my School Carnival Ideas board on Pinterest.
Prizes
Switch up the prizes for your school carnival year over year so the kids will be excited at the prospect of new junkity-junk!
Our prizes range from sticky hands to inflatable creatures and everything in between.
The foam rockets that you fling with your finger have been a really big hit the last few years.

Plus candy.

Candy is one of the cheapest and easiest prizes to deal with.

And honestly, I think the kids would rather have candy than a plastic prize most times anyway.
If you're running your school carnival as a money maker or even as a break even sort of an event, make sure not to go too overboard with the prizes.

Make sure that the vast majority of the prizes are less than the cheapest ticket cost.
It pays to comparison shop! I've found good school carnival prizes at great prices at:
I've also heard that there is also good stuff to be found at: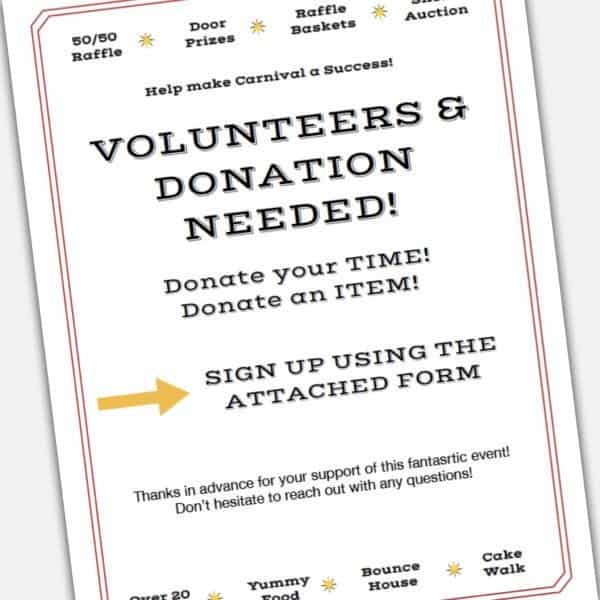 Silent Auction a.k.a. The real school carnival money maker!
The key to a successful silent auction event is to ask pretty much anyone and everyone for a donation.

Don't forget to solicit donations from parents who own businesses or get them to ask their employer for donations.
Other great places to ask for donations for your school carnival are local retailers, restaurants, museums and other places families go or visit around your town or the surrounding cities.

Remember, if you've not asked, then the answer is already no since you have nothing.

So there's absolutely nothing to lose by asking.
Need help on knowing how to ask for donations? Check out this post.
This can be a big job, so make sure to get a team of volunteers to help solicit.

We keep an Excel spreadsheet of all of the places we ask.

The retailers and restaurants are divided up by geographical section, with about 6-10 places in each section to make it easy for volunteers to go to one shopping center and walk from store to store.
I've also found that it helps if you take one of your younger kids with you and maybe have them ask!

The years I did that, my on-the-spot donations skyrocketed, even from places that had never donated before.

It sure didn't hurt that my kids were not shy about asking the manager if they would like to support our schools carnival.

The managers could not resist!
Why not just do a raffle?
Our PTA used to do a Chinese raffle, where tickets were just $1 and families could actually win a $180 pool pass with one ticket.
We would net about $500 for *all* of the work that went into coordinating volunteers to solicit for donations, picking up the donations, compiling the donations into baskets and then running the raffle.

Hundreds of hours went into this effort when you added up all the time volunteers spent on this project.
When I was President of the PTA (and head of the School Carnival Committee), "Crazy pants" I said!

It was a ton of work for a very little payoff. So I made once simple tweak. Instead of doing a raffle, we'd do a silent auction instead.
And you know what?

It paid off in a HUGE way.

Instead of netting the paltry $500, our profits instantly increased to $1500.

Um, wow!

What a dramatic increase for such a small change.

The following year, we doubled profits again and made $3500 from the school carnival.
Why it works
Most families are going to pay for a pool pass or whatever else they're bidding on anyway, so they'll gladly have the money go to our PTA (plus there' the chance they could get it for a discount).
What they're willing to pay also depends on what items are up for grabs at the silent auction. If you've taken the time to get items families are interested in purchasing and assembled them in an attractive manner, they won't be able to pass it up.
Get some help with your silent auction
Snag this done for you Silent Auction Bid sheet. Print off as many copies as you need for your event, add in the info for the item and then you'll be all set to go!
PR
Another reason why our school carnival event is so successful is that we do it every year and people know that it's coming.

But a lot of the success is also because we market the heck out of it!

We have colorful posters made, post them throughout the school and especially near entrances, and consistently promote the event in many different ways:
Coloring Sheets- Offered as options for indoor recess in the weeks leading up to the school carnival and also good for 2 tickets if the kids bring it to the ticket table during carnival.
Social Media posts
Flyers sent home (create attention grabbing flyers like the one pictured above!)
Announcements during school
Newsletter sent home
Posted on marquee in front of the school
Sandwich boards worn during dismissal in the car line. I love our principal- she's an absolute angel for all that she does to help our PTA.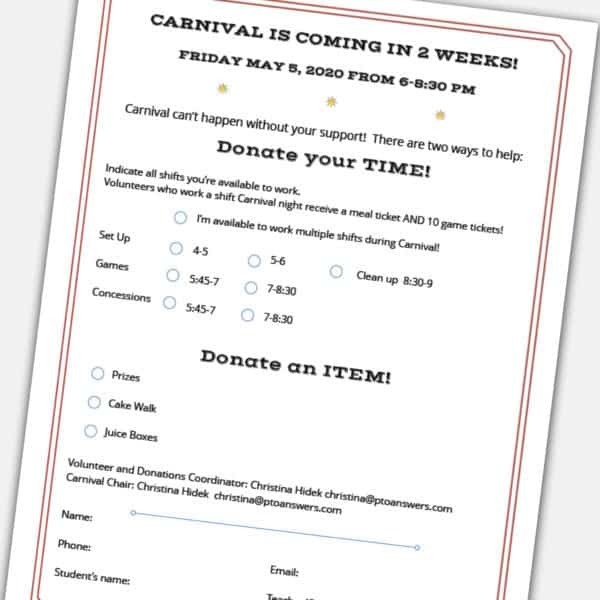 How to Have a Successful School Carnival
The true key to success with a school carnival is to plan, plan, and plan!
This isn't the sort of event that you can just whip up at the last minute and expect that it'll be crazy successful!

You really have to be super organized and plan this entire event out.
And, this is exactly the sort of event that benefits from detailed notes being passed from officer to officer in your PTO.

Every year will feel like it's the first time your PTO is putting on the event if specific details like how much was spent on prizes, how much food was brought in for concessions and the like aren't tracked year over year.

Your PTO simply won't be able to make the carnival easier to put on if you're essentially starting from scratch each year with no past information work from.
If you've been operating without these details and are looking for some guidance on exactly what details to track, I suggest you take a look at the PTO/PTA President's Success Kit.
It has all the forms and checklists and guidance that your entire PTO/PTA can benefit from, not just the President.

The event planning and summary forms in the President's Success Kit are just the ticket to ensure this school event is an absolute hit!
Over to you!
I hope this post has given you some great ideas on how to run a successful and profitable school carnival!
---
I'm a participant in the Etsy and Amazon Services LLC Associates Programs, affiliate advertising programs designed to provide a means for sites to earn advertising fees by advertising and linking to Amazon.com or Etsy.com.  This means that when you click and make a purchase at a site via a link I have provided, I make a small commission at no additional cost to you. Regardless of whether or not I receive a commission, I only recommend products that I personally use and genuinely recommend. I always have my readers' best interests in mind.