Need some quick and easy ideas for Teacher Appreciation Week?

I've got you covered in this post with some really awesome and super easy ideas!

Just because you're short on time, doesn't mean you can't pull together a thoughtful gift to show teachers and school staff how much you appreciate them!
Print a Gift
There isn't a much faster way to get a unique gift to show your appreciation than with printables!
Quote Art Cards
Have you ever noticed how teachers really seem to love quotes?

This mini-quote art card set features 12 different quotes with a sayings that are perfect for every staff member of your school!
Simply print, trim, write a message on the reverse side and pop them into the staff mailboxes.
They will really love this gift and it is super cost effective!

Snag your copy of this mini-quote art set here!
Dress up the otherwise ordinary
Simple gifts can be easily transformed into super thoughtful gifts really easily!

Just attached a gift tag that has a play on words
Like this You're the Balm gift tag!
Or this Thanks for being a Lifesaver gift tag!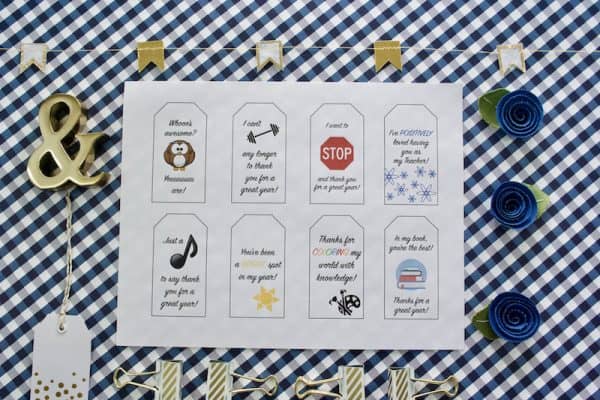 Or just really go for it with full on puns!

This set of punny gift tags are geared more towards specialists and encore teachers like library, PE, Stem and bus drivers, but they'll work for all staff, really!
Write a Note
It feels so good to have sometime tell you nice things.

And if you ask teachers, they're sure to tell you that they'd take a note from their student over a physical present any day!

There's no doubt the teachers will love this gorgeous Letter to my Teacher note!

It comes ready to be printed so it can be filled in by hand or there's also the choice to type in the note and print it out all completed!

Looking for a more masculine version of the Letter to my Teacher?

I've got a suggestion for that option as well!
Snacks
Another quick and easy way to show the love is by filling their bellies with treats!

Be sure to offer a variety of options that will suit everyone (ie don't skip vegan and gluten-free options)!

Put out bowls of snack foods in the teacher's lounge.
Get a few dozen doughnuts for a morning surprise!

Stock the fridge with satisfying drinks!
Bust out your PTO popcorn machine and pop up some bags of popcorn and have them ready for staff to snag.
Or pile up a stack of tagged microwave popcorn bags and let them pop when they're ready!

Put together a snack cart and wheel it around offering a treat to the teachers.

Fill the tables in the staff lounge with treats before the last staff meeting or on the last day fo school for teachers.
Announce your Appreciation
Just how much do you appreciate your teachers and staff?

Be straightforward and tell them!
Morning Announcements
A zero cost way to express your gratitude is coming up with fun morning announcements to highlight your thankfulness:
Recite five reasons why you love your teachers.
Say three things you couldn't do without their support.
Spread out individual shout outs for each teacher all week to cover everyone!
Be creative in your messages and I'm sure the staff will love them!
Social Media Shoutouts
Don't just limit announcing your appreciation to the morning PA announcements!

Post the same messages on Facebook, Instagram or any other social platform your PTO is on.
Say It With a Sign
Hang up signs as love notes by copiers, teacher mailboxes, the staff lounge and in teacher bathrooms, places they're sure to be seen!
Or if you have a little more time and can get an Amazon delivery to you before the end of Teacher Appreciation Week, then here are some really nice ways to recognize the school staff!
These reusable teacher appreciation lawn signs are so cute!

What an eye catcher that your entire staff is sure to love!
Another great teacher appreciation lawn sign set!

Love the polka dot letters!
And here's another version of clever lawn signs for staff appreciation.

These wouldn't take long to set up, and are a great way to start the day for your teachers and staff.

The nice thing about these signs is that they're pretty sturdy and you could totally reuse them several time.

That makes them even more cost effective since it's not a one-and-done situation!
Chalk it up!
Another fun idea for letting the school staff know you love them is to write supportive messages on the walkways leading up to the entrance with sidewalk chalk.
Have more than one entrance?
It's easy activity to involve students and more hands make for a more impressive message display!
Worried about weather?
One option is to just hope for no rain until the teachers and staff have had a chance to see it all!

Of course, if you're at all worried about weather ruining the surprise, you can snap a few pictures of the project and share them on social media.

This its actually a great idea even if you're not rained out since not everyone may have the chance to see it in person.
Make sure everyone knows
One last reminder to be sure to post on social media and report at meetings what the plans are for all the teachers and staff love!

Making a big deal about what your PTO or PTA is doing for the teachers can be a great motivator for parents to get involved to help, so don't be shy about being boastful and really spreading the word!
---
I'm a participant in the Etsy and Amazon Services LLC Associates Programs, affiliate advertising programs designed to provide a means for sites to earn advertising fees by advertising and linking to Amazon.com or Etsy.com.  This means that when you click and make a purchase at a site via a link I have provided, I make a small commission at no additional cost to you. Regardless of whether or not I receive a commission, I only recommend products that I personally use and genuinely recommend. I always have my readers' best interests in mind.