What could be sweeter than showing your staff appreciation by taking them on a trip through Candy Land? You can make this teacher appreciation week theme a fan-favorite of all your hard-working teachers and educators in a variety of ways. Because we all know they are the sweetest around!
Set the Stage for a Sweet Candy Land Visit
First, set the stage by letting them know you're ready to celebrate in sugar-coated sweet style. By decorating their staff room in all things sweet they'll be ready for a week of treats. Look for swirly and twirly pastels to put your staff in a festive mood all week long!
Balloon arches are perfectly designed to easily incorporate candy-themed balloons. Round mylar treat balloons would make a grand entrance to your teacher's space.
Use twirling sweet treats to hang or use them throughout the space to add additional pops of candy fun.
Incorporate their staff bulletin board by making it over with some super fun candy land bulletin board borders.
Add a giant message of appreciation with some Candy Land cutout letters or leave the board blank for some staff participation fun (see the Weekly Plan below!)
Set the Table for a Delicious Theme
Now that the room is fancy, we have to make sure our tables are just as sweet! Choosing some quality pieces that can last throughout the week will help minimize your prep time and maximize the fun for all!
A key piece of your table decor is a candy themed tablecloth. Reusable tablecloths are slightly more durable and more likely to hold up throughout the week of food and festivities, so look for something not just cute, but also something that you can quickly wipe clean throughout the week.
Add some height and table interest by including a few themed decor pieces. Some honeycomb centerpieces are sure to add some whimsy and nostalgia to this candy paradise!
Instead of traditional table confetti, try some reusable table scatters. Mini cake and donut erasers are a simple addition and can double as a teacher's favorite manipulative for some of your primary grade staff after the week is over! Fun and functional for the win!
Save your group some money and add a little sophistication by resisting the matching party plate/napkin combos and look instead for solid accent-colored serving items.
If your group has a little more money to spend on this event, look at personalizing your cups with some custom candy-themed stickers. And you can repurpose the stickers throughout the week on a variety of items.
Everything looks great and now it's time to pour on the sugary love with all your teachers and staff! Here are some ideas to make your week as easy as pie to plan!
The Daily Plan for a Clever Candy Land Appreciation Week Celebration
Monday
If you left your staff bulletin board as a blank canvas in your decorating, here's the day to help spread the love and get your teacher's involved in your week!
Use some cute cupcake themed post-it notes to gather staff favorites. Have staff write down their favorite sweet treats along with their names on the notes and have them add them to your board. Staff will enjoy seeing others' favorites and you can use their ideas to incorporate these treats later in the week (be sure to check out Thursday's idea, below!) .
Make sure you don't forget to also add a few love notes too! Write your own conversation hearts so that the appreciation notes stand apart from the sweet treat favorites and you're sure to have an amazing bulletin board attraction by the end of the week!
Tuesday
Staff members love to be fed! Use Tuesday to have some fun by pairing some lunch foods and their candy dupes to see how they compare!
Treat the staff to some sushi options and see how they like the real thing versus sushi candy gummies!
Or pair up more traditional American foods of burgers, fries, pizza, hotdogs, and cola with these mini food gummy versions for dessert!
Wednesday
Share your appreciation for staff by giving them "nature's candy" and focus on fruit! This can be a great day to incorporate crowd sourcing your families for donations and ask them to send in any and all kinds of fruit. Make today a grab and go option by letting staff build their own fruit trays and baskets.
Providing sturdy bags with handles can help ensure staff can carry multiple items at once. They also can serve as a gentle limit to ensure there's enough fruit to provide to your entire staff.
To make them extra special, print some cute pun berry tags…
Or apple tags to attach to the treat bags.
You can even purchase printer sticker paper to print on the decorative tags to adorn your bags.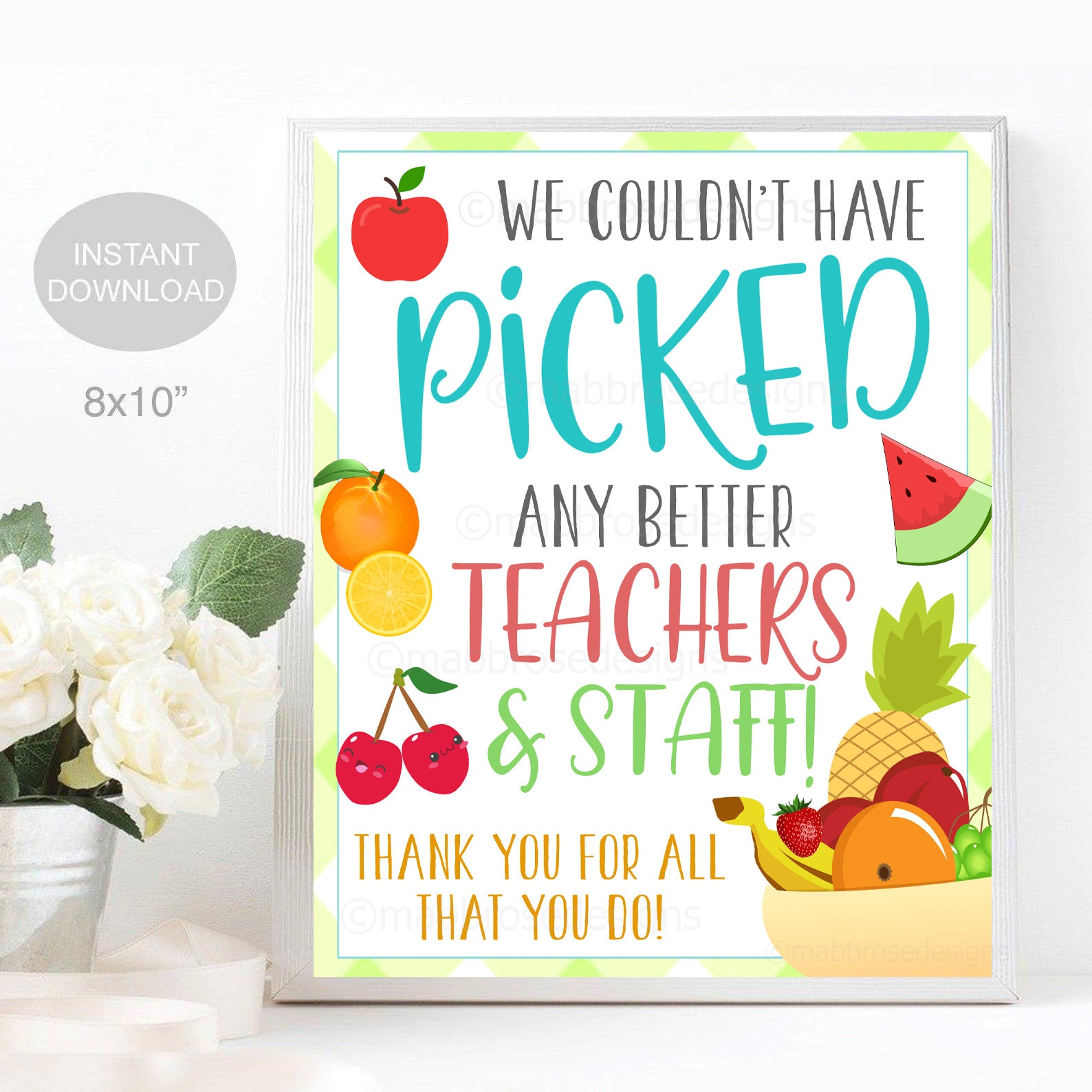 A fun fruit themed thank you tag from Mabb Rose Designs printed on sticker paper would show them how much they're appreciated!
Thursday
Today's the day! Go all out with a full candy buffet! If you collected staff favorite sweets and treats on Monday, try to include as many as possible today. Arranging treats by color can help keep your buffet looking on theme and organized. Or stick to candies only in your school colors to show your school spirit! Any way you go, setting everything out in containers are key!
Clear bowls let the colors of the candies take center stage.
Having different height variety containers will help give your candy buffet visual interest.
Along with different heights, using a variety of shaped containers can also make your buffet more appealing.
Colored popcorn boxes can be used for less colorful candy buffet options or to help give some color continuity to your offerings.
And a special display stand for cake pops or school mascot themed lollipops is sure to make organizing all your offerings a breeze!
Whichever containers you use, make sure to pair all your loose candies with small serving scoops. Teachers get enough germs at school and don't need hands in these candies!
Make sure staff can carry off a full supply of sweet treats with a candy take-away container so they don't spill their goodies!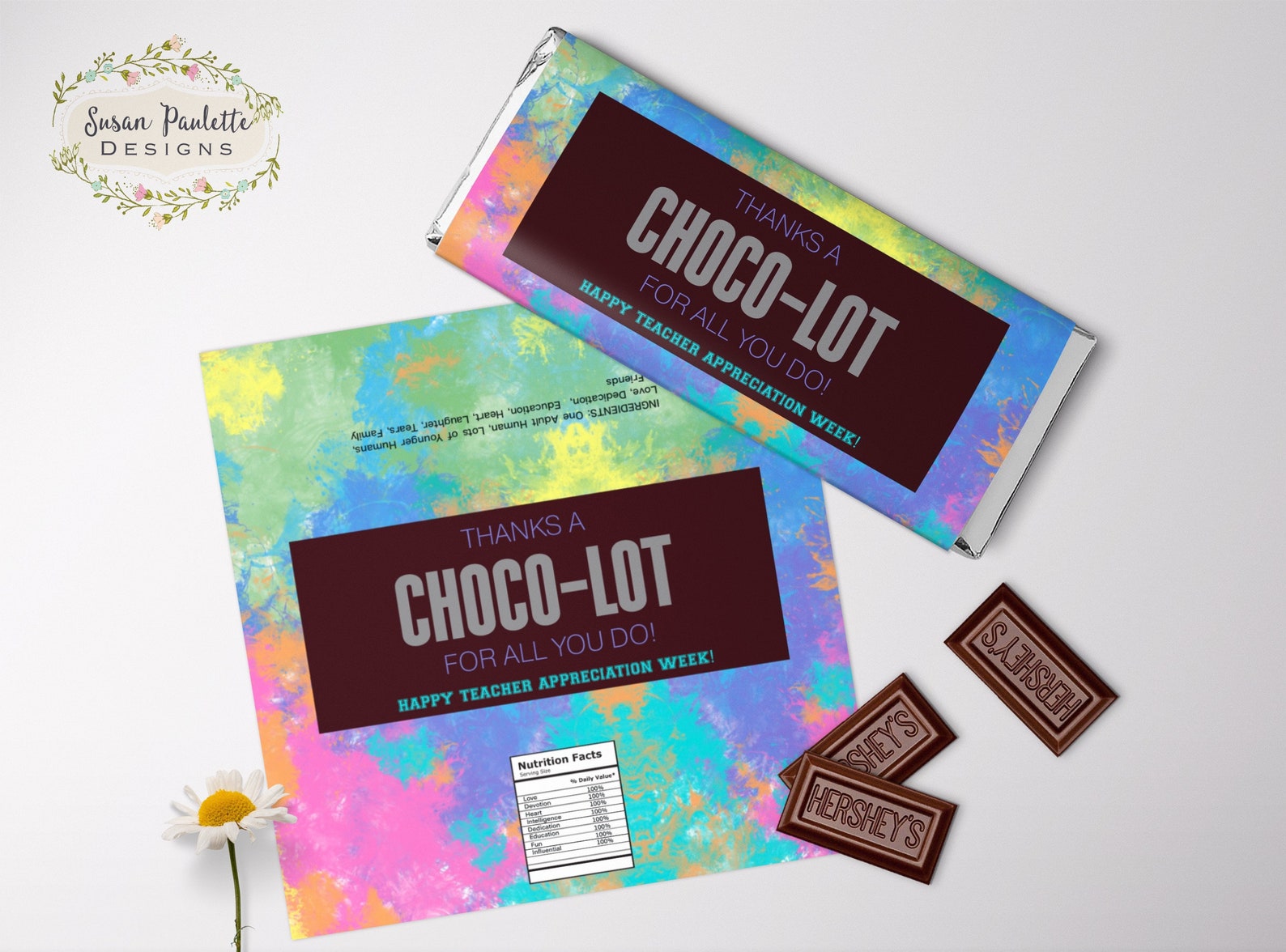 And as one last candy addition, you can never go wrong with a simple wrapped chocolate bar that also serves to remind them of your appreciation and support! This printable wrapper from Susan Paulette Designs is theme perfect!
This would be a great day to work in some non-sugary treats as well. So many teacher supplies are super colorful too. Maybe add in some containers of candy colored highlighters.
Or find themed candy supplies like these sweet candy look alike highlighters!
Or let them stock up on their favorite colored sticky notes in addition to sweet treats!
Friday
A Candy Land themed week just wouldn't be complete without a day to play! Let your staff have a day of fun by providing some games and prizes to round out their week.
Let them try their hand at estimation by displaying a jar of counted candies and having them guess the correct number on game entry cards.
Have them play a PTO/PTA carnival favorite- the lollipop pull game! Use a candy themed stand to make it visible and special. Mark a certain number of sticks on the bottom and have prizes for those winners. Plus everyone keeps the lollipops, so win-win!
And for those lollipops, try to find school colored pops or opt for a gourmet lollipop option to make sure your staff knows you were thinking specifically of them! Save the basic dum-dums for the kids' carnival.
Lastly, set up the staff to play the prize punch game. You can include a variety of prizes including donated gift cards and small school supplies.
And if you're a group that loves to end the week with a chuckle, add a travel toothbrush kit in all the cups alongside other prizes. Staff will all surely appreciate the gesture to recover from your week of sweet appreciation!
Over to you!
A Candy Land themed week will leave all your staff feeling your super sweet appreciation! Make sure though, as with any PTO event, that you work in an appropriate level of inclusion. Have some sugar-free options alongside the full sugar items, and know if your staff have any significant religious restrictions such as gelatin before filling your buffet with gummy treats or the need for kosher items. Your teachers and staff are surely the sweetest around and you want to make sure everyone feels your love during this special week!