Keeping everyone literally on the same page is an essential part of running a healthy PTO.

And one of the officers most responsible for this task is the PTO Secretary since it's important to know the PTO secretary duties so you can see if you're meeting expectations or not.

This post will cover how to be the best PTO Secretary, outline the job responsibilities of parent group secretaries so you can avoid some of the mistakes and myths surrounding this position.

It's also important to highlight that the Secretary Position is one of nine positions every PTO must have and the PTO Secretary job duties are quite different from other PTO roles.

I have strong opinions about this because everyone of these nine roles serves a different function and purpose that's key for a healthy and functional parent group, no matter if it's a PTO, PTA or another name.

First off, Some groups have actually two Secretary positions: Recording secretary and Corresponding Secretary.

They're distinctly different roles and both are generally good for busier parents who would like to be involved, but not at a level that has an intense set of job responsibilities with a deep time commitment.

So let's dive into the differences and similarities of both types of Secretaries and online what a PTO does.
Corresponding Secretary Duties
The name and title of a Corresponding Secretary totally gives away the main responsibility this type of Secretary.

That's right, the primary thing Corresponding Secretaries do is to write notes and prepare letters related to PTO business!
This role is an easy one that can easily be combined with another role if a volunteer would like to take on more.

It's also a perfect role for a parent who doesn't have a whole lot of time, but still wants to be involved.

Corresponding Secretaries don't necessarily have to attend PTO meetings, although it is helpful.

If your PTO doesn't have a Communications Chair, expanding the Corresponding Secretary role just a bit to encompass this role too is a smart move.

Keeping everyone on the same page seems to be more difficult than ever, since information can be posted in a myriad of different ways and methods.

So by designating a single leader in charge of keeping others looped in, whether via weekly email newsletters monthly paper newsletters or even just with a calendar of events, you can boost parent involvement and participation.

Generally, the Corresponding Secretary serves on the Executive Board and has a leadership position within the group.
Recording Secretary Duties
The duties of the PTO Recording Secretary are vastly different from those of the Corresponding Secretary and are much more involved.

Recording Secretaries are also typically Executive Board members.

The main responsibility of the Recording Secretary is to take and maintain the minutes of the PTO meetings.

Minutes from both the General Membership as well as the Executive Board Meetings should be recorded.

The Recording Secretary role is another role that fits well with a volunteer who is limited in time, but wishes to take on a crucial role!

Recording Secretaries must be able to attend the majority of PTO meetings or find a designated note taking substitute.
Keep detailed notes
Take detailed notes during Exective and General Membership Meetings.

But don't write a novel!
In fact, your minutes don't even have to be in full sentences.  

No, really!  Sentence fragments are just fine.  

You're trying to get the essence of what happened during the meeting.  

You are not responsible for transcribing the meeting word for word.

Please don't do this because no one really wants to red all of that and you're also making your job harder because the likelihood of typos only increases with more words./

Make sure to capture all motions and votes that occur.  

Summarize discussions.

The whole point of the minutes is to capture what was discussed and decided so that someone not attending the meeting can understand what happened.

For most meetings, your notes should be no more than a page or two.
Show up early for meetings
Make sure you're on time or even a little early for meetings so that you're ready to go when the meeting is called to order by the President, especially since Recording Secretaries will need to take attendance and meeting minutes.
Don't procrastinate
One recurring issue some Recording Secretaries have is that they put off typing up the meeting minutes.

Avoid this by typing notes during the meeting on your laptop or tablet or come home and type up your notes.

Have minutes ready within a few days after the meeting.

Your memory will be freshest then and you won't forget to add any element into the minutes
Get and stay organized
As the Recording Secretary of the group, you're charged with the safekeeping of your PTO's history, including meetings of the current year as well as minutes from past years.
Keep a Binder for the Current Year
Keep copies of the minutes organized in a clearly marked binder for easy reference and identification.
I have a binder kit for Secretaries that can be downloaded and printed in just a few minutes for an organized set up in no time!
Keep past years' information safe.
Keep a separate binder for minutes of meeting from previous years.

There's really no need to have those minutes with you at all times, but especially if you're a 501c3 non-profit organization, the IRS requires meeting minutes to be retain indefinitely.

If you have other questions about how long to retain PTO records, be sure to check out the this article.

If your school has a PTO closet or office, the binder can be kept in there, or you can take the time to digitize past information to go completely paperless.

This will make officer transition easier since there will be little to physically hand off to the incoming PTO Secretary.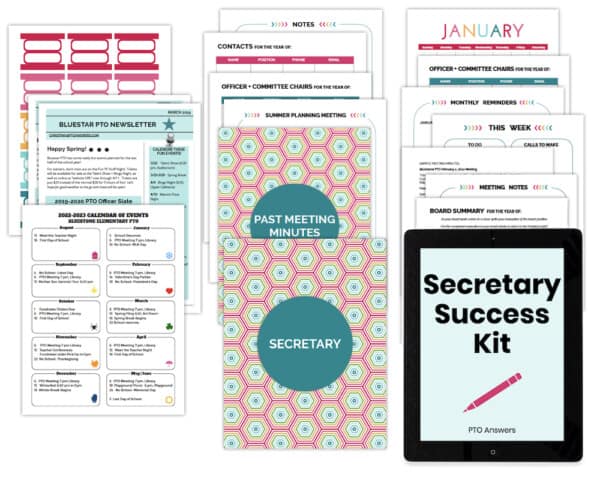 Help for Getting Organized as Secretary in Minutes
As we've explored, getting and staying organized as Secretary is one of the fundamental job responsibilities since record keeping and safeguarding of information about your PTO is involved.

So there's no better way to get everything organized in mere minutes than by using the Secretary Success Kit!

This resource bundle includes everything needed to put together an organized binder for easy safeguarding of minutes and records, but also includes templates for meeting minutes, a newsletter and calendar of events.
Watch this!
I dive into the job responsibilities and duties of PTO Secretaries, both Recording and Corresponding in this video:
Over to you!
Now you have a detailed explanation of what's involved as Corresponding Secretary or Recording Secretary and should know exactly what the job responsibilities of a PTO Secretary include.

The Secretary role is perfect for newer volunteer who'd like to learn the ropes before stepping up into a more involved volunteer position!

Hope this helps you serve your group more efficiently and also help you clarify what to pay attention to.