Looking to be the most organized and together Secretary?
Afraid you'll misplace an important document and get your group into hot water?
Wishing you could have ready to go communication tools right on hand?
Imagine…
… a gorgeously slimmed down and organized binder with nothing out of place
… an instant system to organize essential records
… having ready to customize templates right at your fingertips!
INTRODUCING THE SECRETARY SUCCESS KIT
A customizable planner and template kit for Corresponding and Recording Secretaries!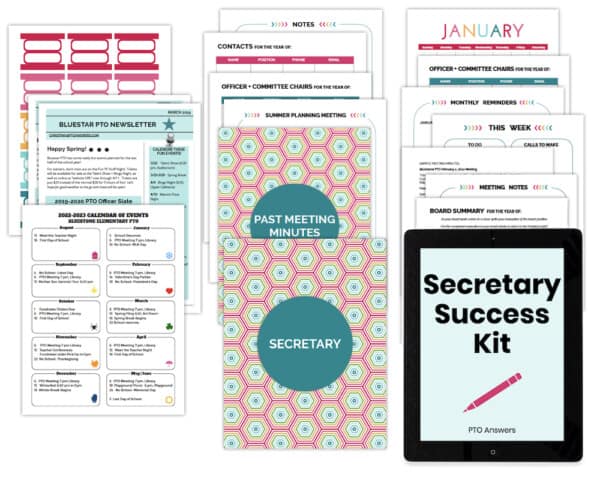 HAVE AMAZING ORGANIZATION + COMMUNICATION TOOLS AT YOUR FINGERTIPS!
Get your copy of the Secretary Success Kit for $49 now!
HERE'S WHAT YOU'LL FIND INSIDE THE SECRETARY SUCCESS KIT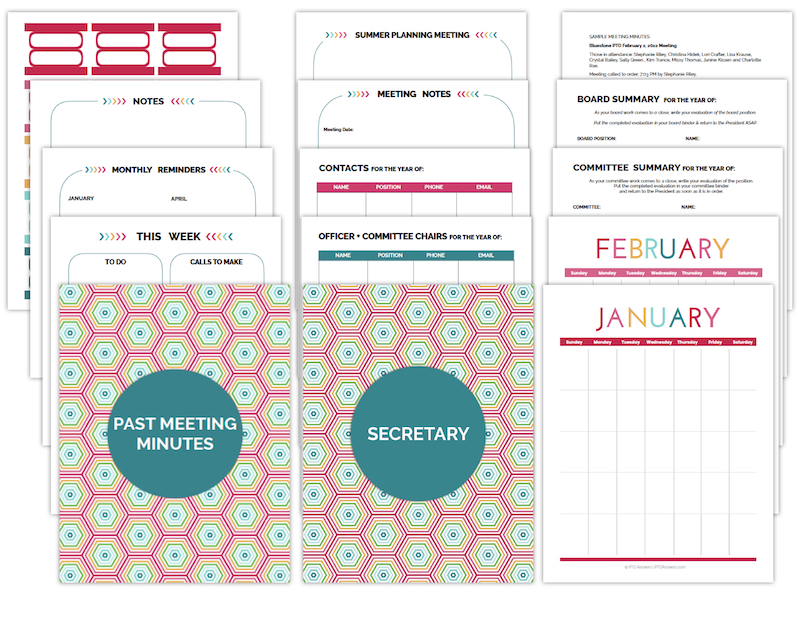 Secretary Planner and Binder Kit
Secretary Binder- Set up an organized planner to keep you on track throughout your term with this 48 page kit, plus all the ready to print checklists and planning sheets you'll need!  To name just a few included:
Customizable cover and spine labels
Covers for both Corresponding and Recording Secretary
Sample Meeting Minutes
Board Summary Forms
Contact lists
Calendar
Past Meeting Minutes Section (perfect for creating a minutes archive to lighten your binder and make it easy to keep these vital records safe!)
All but the calendar pages are digitally fillable, but note that the binder pages are not editable.
Monthly Calendar of Events Template
Completely customizable and absolutely perfect for promoting school events sponsored by your parent group!  Editable Word and Pages versions are included.
Newsletter Template
Indispensable for keeping your entire school in the loop!  Includes two pages of fabulously formatted communication to get the word out about your group's updates and events.  Send home once a month in a paper format or digitally to boost involvement and engagement.  Fully editable in Word or Pages.
ABOUT PTO ANSWERS
Christina Hidek is a PTA nerd with a mission to make life easier for all PTA/PTO volunteers and leaders. She knows what it takes to run wildly successful groups and uses her over decade of PTA volunteer and leadership experience to craft the best resources for all parent groups, no matter the name!
WHY YOU'LL LOVE THE MEETING SUCCESS KIT
FREQUENTLY ASKED QUESTIONS
GET INSTANT SANITY SAVING SYSTEMS AND GORGEOUSLY DESIGNED TEMPLATES!
Get your copy of the Secretary Success Kit for $49 now!