You might not be able to send your teacher and school staff on a much deserved beach vacation to rest, recharge, and relax, but you can bring a beach party to them!

This post has so many fantastic ideas for an entire week of beach themed staff appreciation events, so you'll have a ton of ideas to show the teacher appreciation love for multiple days!
Decorations
Decorating the teacher's lounge or break room with a beach theme for Teacher Appreciation Week adds such next level excitement and enjoyment.

The nice thing is that you can dial up or down the amount of decorations depending on your budget, making this an event that fits a budget of any size.

And the smartest investment are decorations that can be used from year to year.
Set up an entrance to remember for a beach themed teacher appreciation event, starting with these metallic curtains!

That shade of blue really evokes the feel of water, doesn't it?

And this is an example of a decoration that can be used for several different themes, like Under the Sea or an Up, Up and Away Hot Air Balloon celebration.
Then take then right to the beach with this oh so relaxing beach scene wall decoration.

The umbrella and beach chair look awfully inviting!

This wall mural is another example of a decoration that could be used again, with a Hawaiian themed appreciation event.
Next, layer another decoration on around the room with this whimsical flip flop garland.

How fun and cute is it?
Then. sprinkle these beach themed decorations around the room too.

This set has a nice array of options to decorate both walls and tables, so you can sprinkle the decorations around.
To finish up the room decor, hang these colorful paper lanterns from the ceiling.

Group them in clusters, hung at different heights for a splashier effect!
Table Decor
Next, let's explore more beach theme teacher appreciation decoration ideas to deck out tables in the space.

Decorate the table at the start of the week and tweak throughout the week depending on the events planned for the time.

This'll mean the decor can be enjoyed all week long, but the set up is a one time investment that pays off for the entire week!
First, protect and cover any tables in the space with this water themed table cloth and then layer on decorations.

A bonus reason to use a disposable table cloth is that it speeds up clean up time.

At the end of the week, simply fold in the corners, and trap all the crumbs and leftover bits and toss it all in the trash in one fell swoop!
Next, sprinkle on this fun starfish confetti!

Love the sparkle and dimension this simple addition provides.
Then add in some mini decorative beach balls, and don't be surprised if you see them being batted around the room for some impromptu stress relief!
Daily Ideas
If you're planning a week long celebration for your staff, here's an idea for every day of the work week!
Monday
Start off the week by popping a sweet treat into each staff member's mailbox or classroom.
Here are a few options for beach themed candies:
Fill these adorable beach ball bags with the candy suggestions or other goodies.
If you have a larger amount of goodies to give, this beach themed gift bag holds a bit more than the beach ball boxes.
Other ideas for favors: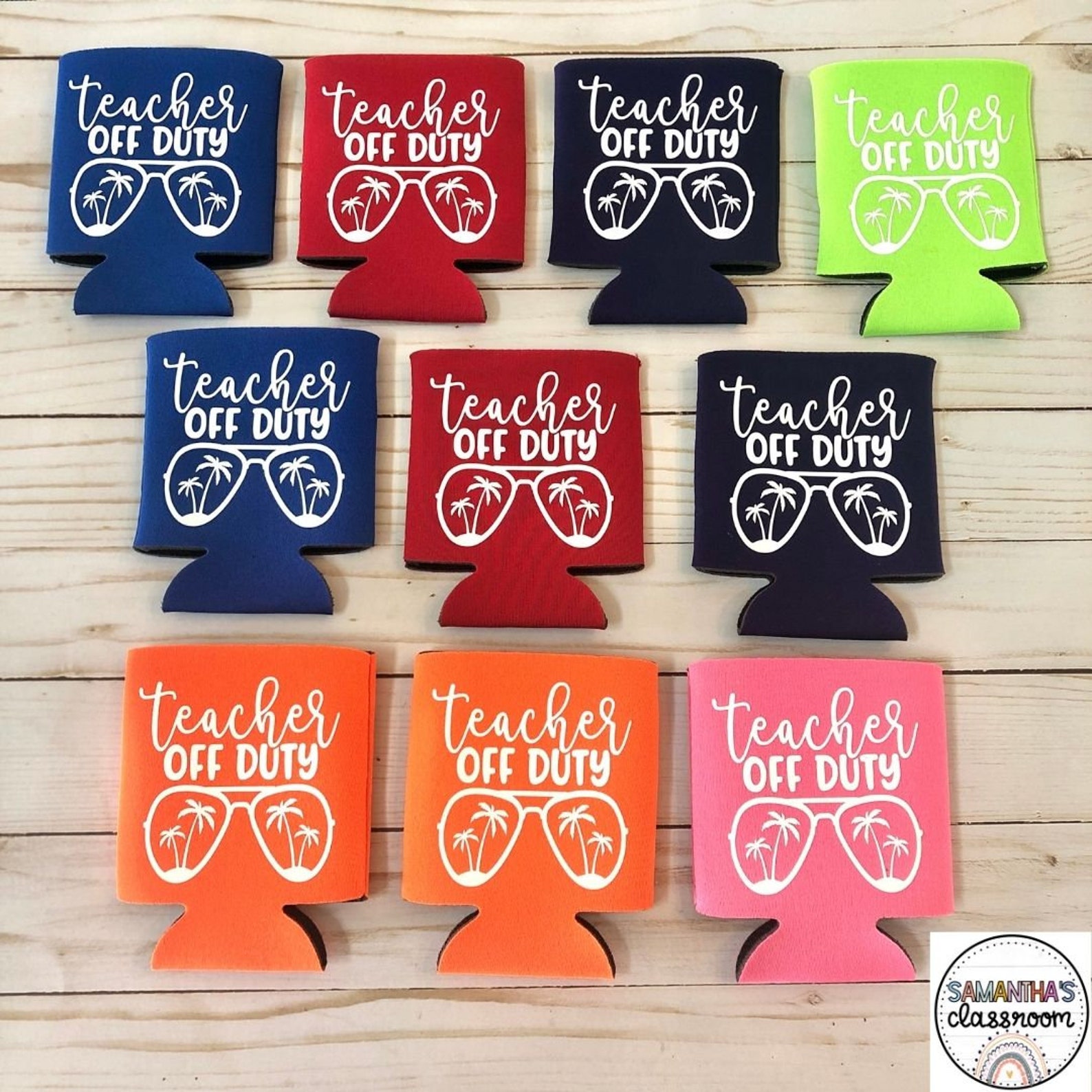 How about a can cooler?

This one from Samantha's Classroom is super cute and available in a bunch of different colors.

Get a rainbow of them or your school color.
Tuesday
Write each staff member a personalized thank you note for all they do to make your school fantastic.
How cute is this Papyrus card set?
Here's another beach note card set option that's also lovely.
Wednesday
Wednesdays are somehow the longest day of the week, so it's a smart day to host a luncheon for your staff.

Here are some ideas for what to serve along with links to the yummy recipes:
This set of neon colored disposable dinnerware is super fun and has everything you'll need to serve a meal.
Thursday
Set up a dessert smorgasbord for staff to enjoy to sugar them up for the end of the week.
Whip up a few batches of cupcakes and top them off with these cute beach themed cupcake toppers.
Switch up the tableware options for dessert day and set out this fun beach set.
Friday
Turn Friday into Fri-yay with a mocktail station!
This set of non-alcoholic drink mixers make it so easy to set up a well appointed "bar."
Get a few set of these cute beach themed tumbler cups.
For the drink station, don't forget to offer these tiny drink umbrellas that'll add a touch of whimsy and nostalgia.
Anyone else use these as umbrellas for their Barbies or unwind the paper cap?

I treasured these little babies and always got excited when they were at parties I attended with my parents. #genxmemories
Over to You!
Hope you love all of these ideas and feel prepared to put on the very best beach themed appreciation event to celebrate your school volunteers, teachers or staff!

With an idea for every day, there's bound to be several ideas you can incorporate into your appreciation plans.

Please feel free to share pictures of your beach appreciation events with my by tagging me on Instagram @ptoanswers.

I can't wait to see how it turns out!
---
I'm a participant in the Etsy and Amazon Services LLC Associates Programs, affiliate advertising programs designed to provide a means for sites to earn advertising fees by advertising and linking to Amazon.com or Etsy.com.  This means that when you click and make a purchase at a site via a link I have provided, I make a small commission at no additional cost to you. Regardless of whether or not I receive a commission, I only recommend products that I personally use and genuinely recommend. I always have my readers' best interests in mind.