The easiest way to get new members for your PTA or PTO is to set up a Membership Table.

But knowing what is best to have on the table in order to attract new parents to first come over and second, actually join isn't always clear.

This post will walk you through what's involved with setting up the best membership table, perfect for Membership Chairs!
Location is Everything
Choose a good location, or you'll be ignored.

A good location is in a central place.

Close to the entry doors makes it so that your table can't be missed, but it's an area prone to get clogged easily.

Just make sure you're in a place the majority of parents will be passing by or through.

A bonus consideration is a space wither you can hang a banner and other decorations.

This will help to attract families and stand out!
Right Sized
Make sure the area for your membership table is big enough for several people to be at that same time.

Most people aren't going to wait in line to sign up, so provide enough spaces for at least 4 people to interact with PTO volunteers at a time.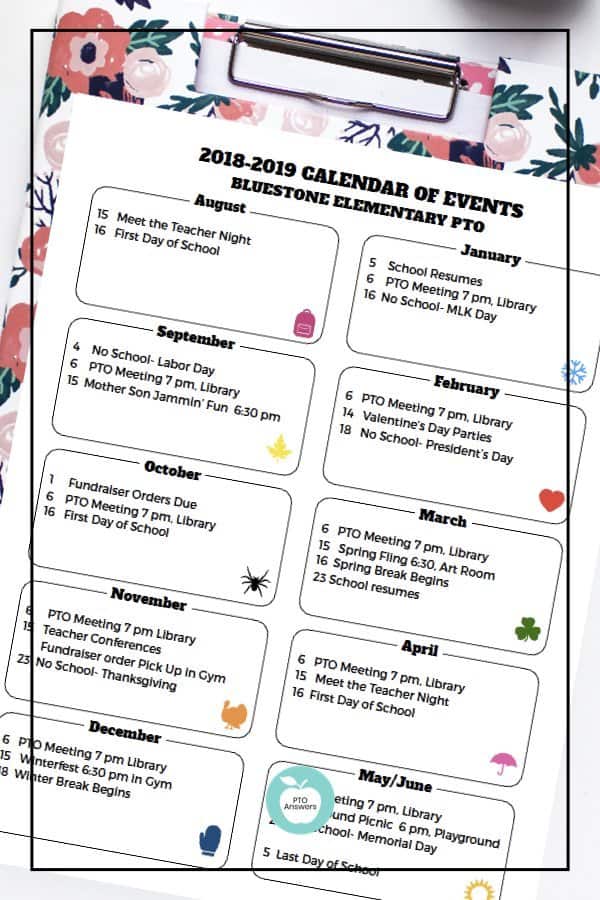 Supplies
Your table should be well stocked with these basic supplies:
Pens
Cashbox with change (if collecting dues or a membership fee)
The most recent PTO newsletter
Volunteers
Having enough knowledgable volunteers on hand is a must!

And I suggest not having your introverts at the table.

You really need some of your most outgoing and engaging members to help people draw parents to the table.

After all, would you be more likely to sign up with Ho Hum Helen or Bright and Bubbly Brittany?

Look at your volunteer base for the most passionate, involved volunteers. Those are the people you need at the membership table.
Confession time! I'm actually a Bright and Bubbly Brittany and have a knack for getting people involved.

I hard sell PTO are membership events and usually have no voice left at the end of the event because I actively call people (including the kids!) out as they pass by- "hey, are you coming to the PTO Ice Cream Social next week?" "Who likes ice cream?"

The parents might very well have intended to pass straight on by the table, but the kids' ears perked up and you can literally see them tugging on their parents arm to go to the table to learn more.
Arm your table volunteers with all the information they'll need to answer the common questions that come up:
What does PTO do at your school?
Why should they join?
Why pay dues?
How they can join
If you have pictures from past PTO events, make a display board for all to see!
When to Set Up a Membership Table
Don't just set up a membership table one time!

Here are the times you should have a designated table for parents to sign up to get involved:
Any and every school or PTO event held in late Spring and over the Summer
New family orientations at the end of the year or before the new school year starts
School events held just before school starts or in the new year
Parent Teacher Conference Nights
Meet the Teacher Night
Kindergarten Orientation
Over to You!
Now you know the basics of setting up the perfect PTO Membership Table!
Even More Help
If you're tired of spinning your wheels and not meaningfully increasing your membership, then it's time to get tried and true strategies to use.

The Membership Master Plan has dozens of ideas you can implement right away to boost parent involvement in your PTO / PTA.

Get your copy today!
Looking for an easy to customize newsletter template to keep all school families in the loop? This template uses Word or Pages that's probably already on your computer to help you create a beautiful and easy to ready newsletter without the hassle!