Today, I want to talk to you about some tools that are really going to instantly transform your PTA or PTO.

I can say this confidently without exaggerating because there are some really powerful tools, and I just want to make sure you know about them.

So, we're going to go through some of the tools, templates and guides and highlight how they can change things for your PTO/PTA for the better in an instant.
Why You're a PTO Leader
But first, I want to talk to you about why you got started as a leader.

You signed up to be a leader because you wanted to make a difference in your children's lives at school.
As a PTO leader, you signed up to make the school a better place.
You recognized, just like I did, that happy kids come from having happy teachers and happy principals, which in turn, leads to happy parents.

So, as much as you're doing this because you love your kids and your school community, ultimately, part of you is doing this so that you can improve your life and be happier, knowing that your kids are happier.

There's nothing wrong with that.
But when so many of the issues crop up that we have to encounter and learn to deal with as PTO leaders, sometimes it can make it kind of hard to figure out how to deal with stuff because the negatives of being a leader can interfere and make us lose track of our ultimate "why."
Let me tell you what you signed up for.

You probably wanted to make some friends, just like me when I started in my PTO. That's the same reason why I got involved to start with.

I had very few friends with school-aged children in my area, with most of my friends having moved away for jobs or medical fellowships, so I didn't really know very many people at the school.

I thought the PTO would be a fast track way to get some friends to hang out with during the day.

And because I've always liked volunteering, I got involved in the PTO when my son started Kindergarten and started off by going to the first meeting.
But later that year in the Spring, when I agreed to step up to lead the whole darn group as PTO President, I really didn't expect some of the stuff that was going to come next.

I didn't expect that leaders didn't have much training to do on.

I thought I was signing on to an organized group.

I'm not saying that my group was a hot mess, but I'm just saying that a lot of times, this is what people will encounter.

They'll encounter a group that is not as organized as they thought it would be or that they hoped it would be.
There's some drama because of this disorganization or the miscommunications that happen when you're not organized.

You encounter way more work than you thought you were signing up for.

Even if you were signing up as President or stepping forward as a leader and agreeing to take on that role, pretty sure that you weren't expecting it to be a full-time job, right?

But a lot of times, that's what it turns into.

It also involves constant juggling of different responsibilities, and it can be really frustrating because people keep coming to you, expecting you to know the answers.
When you don't know the answer, which, by the way, is totally fine, you're not expected to know all of this stuff, it can make you not feel very great.

You might feel like you're not doing a good job because you don't know the answer instantly.

This can happen when you are stuck making things up on your own, or you don't feel like you have the resources that you can depend on to get your questions answered quickly by someone you have confidence in, someone who knows what they're talking about.

Because, of course, you don't want to be taking advice from just anyone. You want someone who's been there, done that, and can hopefully save you some trouble.
And so you can feel really feel exhausted when you're constantly being confronted with those questions because it can feel kind of very never-ending and very defeated.
An Instant Solution for all PTO / PTA groups
There are really two distinct ways that you become a better leader:
Get years and years of on-the-job training and hope that you get there… eventually and before you get burnt out.

or

Short-circuit the learning curve by utilizing tools and resources that have been developed by someone who's been there, and done that and knows how to get you up to speed quickly.
And because you're smart, of course you're going to choose option #2.
So that leads us to the best solution for all PTO / PTA organizations:

The most comprehensive bundle of resources for PTO and PTA organizations is the PTO Success Kit.

It gives instant access to a whole bunch of different systems, strategies, and ideas for how to run your group.
Resources for PTO Membership and Parent Involvement
You're not alone if your PTO is having trouble not only attracting volunteers and group leaders. Most groups could greatly benefit from an infusion of fresh faces and eager helping hands, but struggle to attract the helpers they need.
If your group is on the same struggles bus, you'll want to check out the Parent Involvement Success Kit.

It has a whole host of separate templates, guides and form resources that will directly help you grow parent involvement, as well as get more volunteers and leaders signed up to lead your group.

The templates are ready to be customized for your organization and school, and there's what you need for a robust membership drive as well as a new family welcome kit.

One of the secret tools included is the Seven Steps to Boost Parent Involvement masterclass.

It's a two-hour self paced course, that comes with a workbook and materials to give you strategies and ideas for boosting involvement in your group immediately.

Just one of the many tools in the kit that you'll come to love!
Resources for Fundraising
The best fundraiser is the one that lets you fundraise just once a year.

That allows you to skip over having to run a Spring fundraiser because your Fall fundraiser didn't really do what you needed it to (or vice versa, depending on your preferred timing).

Most groups are stuck running multiple fundraisers and having them needlessly gobble up a bunch of time of volunteers.

If only those groups would learn the right way to fundraise, they could save themselves a lot of stress and be able to focus on the more fun aspects of their group and school.
The Fundraising Success Kit gives access to many tried and true money raising strategies, tactics and methods.

Plus there are a ton of ideas for everything fundraising related from choosing the right fundraiser for your group to getting teachers on board and selecting the perfect prizes and incentives, to name a few.

Add to that, there's a six-month timeline for running the very best fundraisers to help you raise more effectively, and ultimately less.
Resources for PTO Room Parents
Most groups don't leverage class parties in their elementary schools to drive PTO communication and membership and are really missing out on a crucial pipeline for parent involvement inside and out of the classroom.
Enter the Room Parent Success Kit.
If you school doesn't have a Room Parent program, you will love the program manual that lays out every aspect of starting and running one.

On top of that, and especially for individual room parents or schools with established programs, there are templates and forms designed to more easily organize class parties, volunteers and donations.

The resources inside the kit will show how to implement simple tweaks so that you can turn those classroom volunteers into ambassadors for your PTO or PTA really easily.
Resources for PTO Presidents
If you're a President, you're tasked with keeping all of the balls in the air and have a million things on your to do list.

Getting a handle on everything starts first by getting organized.
The fastest way to get organized is with the President's Success Kit.

Inside the President Success Kit, you'll get all the components for an organized officer binder, along with monthly guidance that gives a rundown of what to do each month, along with dozens of forms to ease running meetings, events and fundraisers.

It's designed to give you some relief from wasting time in front of the computer formatting things; you can just print and go.

You'll also find binder kits for both your Principal and Teacher's Liaison inside the President's Success Kit, both essential partners to help form a stronger and more effective group.
Resources for PTO Treasurers
Managing PTO money is another critical part of running every group and difficult position to recruit for.
The tool that makes PTO money management incredibly easier is the Treasurer's Finance Manager, a star component of the Treasurer's Success Kit.

The program allows you to ditch expensive and unnecessary financial management software that comes with an annual subscription.

Your PTO doesn't need to be paying out year after year when you can instead use something that's been specifically designed for PTO/PTAs and is a one time cost.

The Treasurer's Finance Manager will give you everything you need, and the best part is you pay one time and you get access to lifetime updates.
There's also a Treasurer's Planner included the Treasurer's Success Kit with all of the forms and systems your Treasurer will need so that they won't want to quit after one week on the job.

The systems that are included in the Treasurer's Planner will make their life so much easier.

It'll save hours of time having to track down receipts, prepare for the annual audit and simplify day to day PTO operations.
Resources for All other Leaders
Also in the PTO Success Kit are officer kits for pretty much every single one of your elected leaders, including Secretary, Family Fun Events, Historian, Vice President, and Staff Appreciation.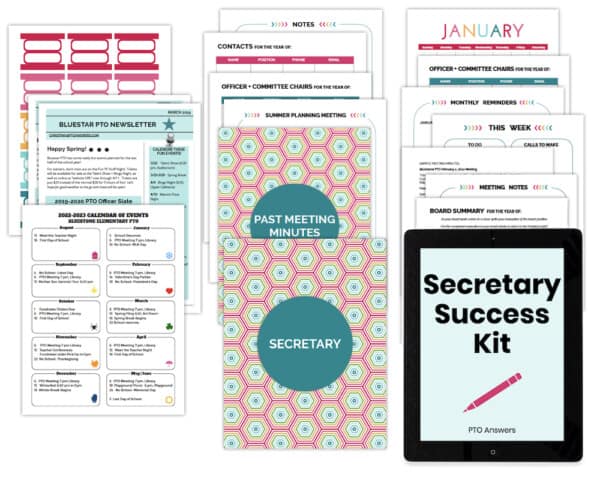 The kits that have everything to set up an organized binder to make your term and officer transition so much easier and come with forms and templates tailored for the specific positions.

It's just a really nice way to give every single leader in your group what they need in an organized and customized ready to go binder.

The organized binder will personally benefit them this year and your PTO for years to come.
Why the PTO Success Kit Will Work for your Group
The PTO Success Kit is designed to work for every group, no matter their name, size, school type or how long the group's been around.

As you can see, the it's loaded with tons of systems, forms, guidance and templates, but none are intended to be static.

Everything's been intentionally crafted to give you a starting point; something to get going with, adapting it to make your own and work perfectly for your group.

The systems and tactics are more like a general framework that you're going to use to put in your own group's information and kind of flesh it out.
Once you have this fantastic collection of resources, you're going to be loving everything because you're going to feel like you actually have a plan of what you're going to do next because you will have a plan of what to do next.
This resource collection really offers peace of mind because you're going to know that you don't have to spend hours and hours hunting down the right information.

You're going to know it's right in this resource bundle, and you're going to go right to it and have everything right there.
Ease of Officer Transitions
The other nice thing about this resource bundle is that it really eases officer transition issues.

When a new volunteer, comes on the scene, they're not expecting to need to create a system for everything.

They just want to get in there and do their job.

Once you have the PTO Success Kit, you'll be able to tell potential leaders what they have to look forward to: ready to implement systems and done for you forms and templates.

That's going to be a huge selling point because I want you to think about when you first signed up.

If someone had told you that, how much faster would you have agreed to the position, and how much better would you have felt about starting your position?
Because you wouldn't be starting at position zero, you'd be way far down the lane and already happily off and running in your position.

So you'll really help others to get up to speed, too!
Start Acting Like the Business You Are
One thing that I've come to realize is that PTOs and PTAs are businesses, but they're entirely run by volunteers. And for some reason, some volunteers feel like they can't invest in tools to help make their volunteer jobs easier.

But that doesn't make sense since a business invests in itself to help it grow.

And the hesitancy to invest is really holding those groups back from the potential of what they could be doing if they would get the tools and resources they need to succeed.
Who Should Pay for Leader Resources
The other thing that some people have been unclear about is how to pay for the bundle. So, they're like, "Yes, okay, I think we need these tools, but I don't have the money in my bank account to pay for this," and they mean them personally.

Resources like the one highlighted here aren't things you should be paying for individually as a volunteer.

Instead, this is something your PTO or PTA should be paying for.

Because these are resources that your group is going to use year over year, and you really shouldn't be hesitant to invest in the tools that are going to make it easier for volunteers to stick around.

If you shorten the amount of time that people have to learn how to do their volunteer job, and if you give them the tools and the systems they need to do role more easily, they're going to stick around as volunteers for longer.

This means that you'll waste way less time trying to get everybody up to speed.

Also that it'll be easier to trying to recruit new volunteers and leaders.

And that you won't be stuck doing everything yourself.

So, overall it's a really good idea to make sure that you have things like the resources highlighted in this post that support your leaders.
Watch this!
Over to you!
Running a PTO is no easy task, but one made much easier when you're not left to figure it out all on your own.

Take the shortcut to a more enjoyable and successful year by getting some resources to ease your way.

Whether it's an position-specific kit or the PTO Success Kit, you'll have what you need!

The systems, strategies, forms and templates are an easy way to transform your entire group in an instant!