One of the very first things you should be doing as a PTO leader to get your PTO organized is to create a PTO Planning Calendar!

The main point of this entire exercise is to get all programs, fundraisers, meeting and other events written down in one place.

This makes it possible to literally get the big picture of what is happening with your PTO.

You'll then be able to see where you'll need volunteers, so you can start getting volunteers committed to helping out in advance. This eliminates the last minute scramble to get volunteer slots filled that keep PTO leaders up at night.
And you'll have a far less likely chance of double booking your PTO with conflicts that would spell for a disaster for your group.

More on this below.

The bottom line is that you need to make sure you have a general idea of what is happening, when it is happening and where it is happening!

In other words, you gotta have a plan!

When to Plan
I'm a planner. I like to get a general plan together as early as I can because I have a super bad habit of over-committing myself. And life also happens and then my calendar fills up when I'm not looking. I know this sounds familiar to you as well!

Plan early and often.

Ideally, you'll get a general plan together before school resumes in the Fall.

If you're leaving planning to the Fall, there is no doubt you will be putting yourself in the weeds and you'll have a tough time recovering.

The secret to success with all things PTO is planning and communication.

If you're already starting behind, it'll be tough to get ahead of the game.
How to Plan
When mapping out the calendar, here's what you need to do:
Grab a monthly calendar
The very first thing you need to do when creating a PTO Calendar to plan out your year is to grab a calendar to start.

I suggest you snag my lovely calendar with helpful tips on proper calendaring techniques for PTA/PTOs. It's a free download, so get it now.

Here's the form that'll automagically deliver the 12 month PTO Planning Calendar pictured above to you when you enter in your information!
I prefer to work first by writing everything down, and then I transfer the finalized dates to my PTA's Google Calendar and also into my personal calendar.

If you're more comfortable with entering everything digitally first, then go for it!
Fill in all holidays
Now that you have a blank calendar, start with filling in all of the holidays. Be sure to include all religious, secular, and bank holidays that are observed in your area.
For example, if your schools observe Yom Kippur, make sure to note when it is so you don't make the mistake of scheduling an event or meeting that conflicts.

That's a sure fire way for Jewish families to feel excluded if an event is scheduled the night before Yom Kippur!

Wrong "strategy" to take for sure!
Add PTO Meetings
Next, add in your PTO meetings to the calendar.  

Make sure that big events have a meeting scheduled before the event so there's no last minute rush to find a convenient meeting time for all involved in executing the event.
With the events calendared out months in advance, people can adjust their schedules ahead of time and it'll save your sanity!

One year, my PTA forgot this crucial step and we ended up planning a huge family fun and fundraising event for the Saturday after President's Day.

This left us with fewer days to promote the event to the students and as a result, we had lower attendance the event and lower revenue too.

Oops! We noted our mistake and made sure we double checked the calendar for the next year.

Both attendance and revenue rebounded that next year!
Add District and Local Events
Next, add in events that are happening at other schools in your district as well as what's happening in your city and surrounding area.

This part of the calendaring process should be an on-going thing and I'll give you some fair warning that this is probably going to be the most frustrating part of the entire process.

Just know that your plans might need to change if high interest events conflict with your scheduled event.
For example, 2016 was a crazy good year for sports in Cleveland!

We had three teams in the championships for sports teams!

So many meetings and events (not just PTO!) were rescheduled because people anticipated low or no turnout because people would be going to the games or game watch parties.

A solid decision for sure because of the drought of such excitement in this area! So remember this when planning everything.

Moral to this story: People have things going on outside of your school or PTO. Be mindful of this.
Minimize Conflicts
Try to minimize scheduling conflicts with other schools so parents can avoid having to make a choice of which event they will attend.
Now there will be always be something that is a conflict and it isn't possible to avoid all conflicts.

Just be aware of the potential conflicts and schedule around them as much as possible.
Anyway, I think you get my drift…
Make sure to note anything and everything that could affect attendance and participation in your event or meeting.
Map Out Fundraisers
Now, fundraisers aren't something that should be planned separate and apart from your regular calendar of events!
But I really wanted to draw your attention to this point because I've had experience when the fundraising chairs didn't know what the family fun events chairs were doing and it was a messy situation.
In one case, the family fun committee had planned to have a magician as a free event in April, but the fundraising chairs were planning to have a ticketed event for a magician in March.
How do you think that would've turned out?

Not well!

And so that's why the fundraising chairs opted to move forward with a different fundraiser!
Need some help figuring out the school fundraising process? Check out the Fundraising Formula for PTA/ PTOs. It has everything you've always wanted to know about how to run a fundraiser plus a planner perfect for keeping Fundraising Chairs organized and on track!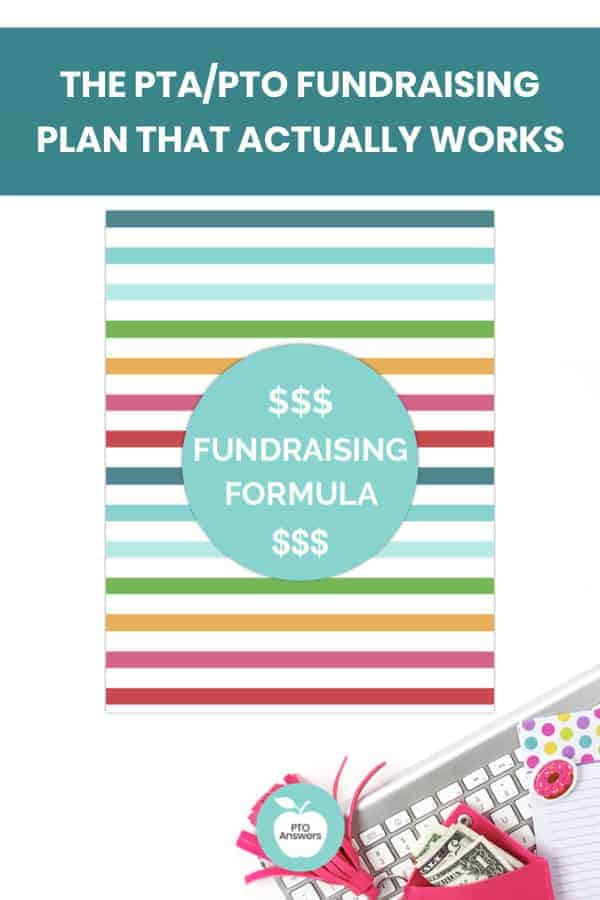 Now, share your plans!
Once you have the PTO planning Calendar fleshed out, your very next step is to share it with the other officers and committee chairs in your PTO.

They'll need this information as they work the firm up the general plans and will ask you for it, so beat them to the punch and give them a copy.

The calendar should also be shared with your building Principals and PTO Teacher liaison so they stay in the loop too!

You'l also want to distribute a copy to parents, but you'll need to simplify it for quick reference and ease of copying.

I recommend sharing a hard copy so that families can post it on their fridge or near their home Command Center.

I have a streamlined calendar template available in my shop. Simply customize with your group's information, print and distribute to families!

The design has already been worked out for you, so it makes the whole process so simple!
Summing it all up
SaveSave
Ok, so the basics of putting together a PTO planning calendar that works is to:
1. Start early
2. Include all events, programs, fundraisers and other events that could affect your plans
3. Share the plans with your Principal, PTO Teacher Liaison, plus relevant officers and committee chairs.
4. Pretty it up and distribute to school families!
Resources mentioned in this post…
Free PTO Planning Calendar
Plan out your entire year using this cute PTA/PTO planning calendar!