Does the thought of running a PTO meeting make you a little sick to your stomach?
Scared that no one will come to the meeting, or if they do, that they'll never come back?
Tired of sitting through PTO meetings that seem to last f.o.r.e.v.e.r. without getting much done?
You can lead well attended meetings that are efficient and decision packed!
Imagine…
… Having a clear-cut plan to follow to so you're no longer wondering if you're covering all bases.
… Knowing precisely what to say during meetings and when not to say anything at all!
… Not getting tripped up or confused by the procedural details of motions and voting and all the official things.
… and having customizable templates right at your fingertips!
INTRODUCING THE MEETING SUCCESS KIT
A customizable strategy guide and action plan to run well attended meetings in an hour or less!
EASILY RUN MORE EFFECTIVE MEETINGS
Get your copy of the Meeting Success Kit for $39 now!
HERE'S WHAT YOU'LL FIND INSIDE THE MEETING SUCCESS KIT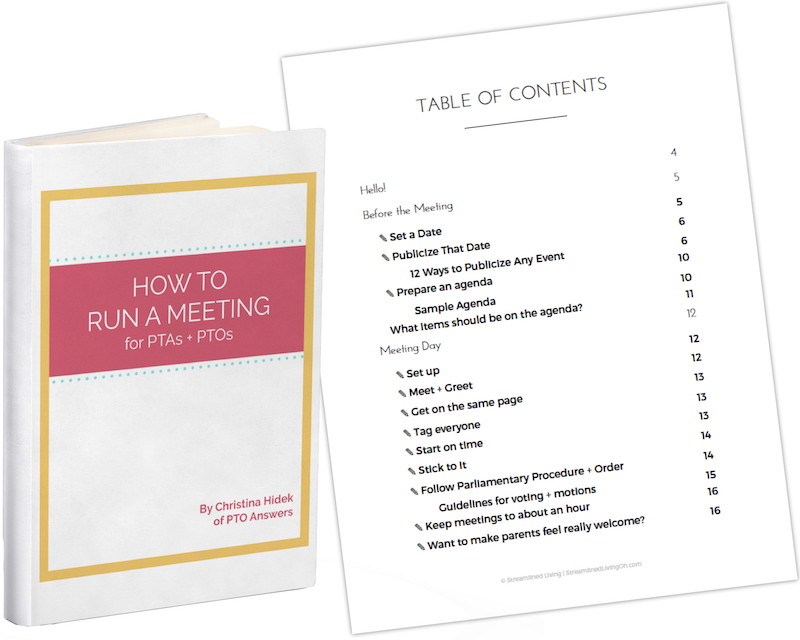 How to Run a Meeting for PTOs and PTAs
Get the exact steps to holding the most well-run PTO/PTA meeting ever!
This guide covers everything from how to promote the meeting to what to avoid during the meeting in order to have parents returning month after month.
You'll have the detailed step by step process of *everything* that should be done before, during and after PTA/PTO meetings to make sure your group is well-run and parents will return month after month:
How to publicize your PTA/PTO meeting (tricks + tips that really work!)
Detailed meeting agenda template
A step by step explanation of how to actually run meetings
Simple guidelines and tips for motion and voting procedures
Learn to run consistently short and effective meetings that will leave teachers, staff and parents singing your praises with the How to Run a Meeting guide!
Customizable Meeting Invitation Flyer
Boost meeting attendance with this customizable meeting invitation.  Use Word or Pages and follow the PDF template to copy the example.
Meeting Agenda Template and Reminder Sticker Printable
Use Word or Pages to tweak this template for a monthly meeting agenda to keep the meeting running smoothly.
Give parents a unique meeting reminder- stuck to their student!
There are four sets of stickers to download and print immediately after purchase:
The stickers come in both a red, white and blue color scheme and come 30 to a sheet. Print in your choice of color or black and white.
The printable stickers are compatible with the a bunch of Avery products, including: 15160, 18160, 18260, 38260, 45160, 5260, 55160, 5520, 6970, and 8860, among many others.
Meeting Attendance and Volunteer Tracker Sheets
Track participation levels and volunteer hours with these essential printable sign in sheets.
Easily customize the year with Adobe Reader or other PDF filler program.
ABOUT PTO ANSWERS
Christina Hidek is a PTA nerd with a mission to make life easier for all PTA/PTO volunteers and leaders. She knows what it takes to run wildly successful groups and uses her over decade of PTA volunteer and leadership experience to craft the best resources for all parent groups, no matter the name!
WHAT LEADERS HAVE TO SAY ABOUT THIS KIT
This was exactly what I needed as a first time PTO member… let alone taking on the role as PTO President! – Sarah L.
I can't wait to start the new school year. I feel confident our PTO will do great things with all the info this provides!! – Laura M.
Great information! It is clear and concise. Easy to follow and implement. Thank you for another great tool. I love it with my PTA Presidents Guide. – Kelly G.
Exactly what this new PTA president needed to get started! – Beth Ann S.
Running a meeting isn't hard, but you've got to learn to do it somewhere and this gets you headed in the right direction!. – Erin T.
A very comprehensive guide! I really liked a lot of the suggestions that I hadn't thought of. – Melissa M.
WHY YOU'LL LOVE THE MEETING SUCCESS KIT
FREQUENTLY ASKED QUESTIONS
DON'T RISK EMPTY MEETING ROOMS
Get your copy of the Meeting Success Kit for $39 now!