So hear me out on this.

I know you're feeling done.

Oh, so very much done.

But there are some thing you need to do before the end of your term of office.

Because it's not only the right things to do, but your PTO will be better for it!

Carve out maybe an hour of your time and wrap everything up in a nice little bow!

Here's how!
Upload Your Files
Upload all the documents and files you created over the course of your term to your group's cloud file storage.

Every flyer and sign up sheet you created.

All the meeting minutes you took.

Each agendas you made.

If you don't have one and are relying on old school methods like flash drives, make a giant technology leap forward and establish a Google Drive or comparable system for your PTO to use going forward.

For more help on how to organize all the files once there, check out this post.
Download Your Thoughts
If you haven't already done so, take a few minutes to review the year and write down notes about what you did for your job over the past year.

What programs did you run?

How did you do them?

If you're looking for more detailed guidance on what information you should be tracking, then you'll want to get a copy of the President's Success Kit.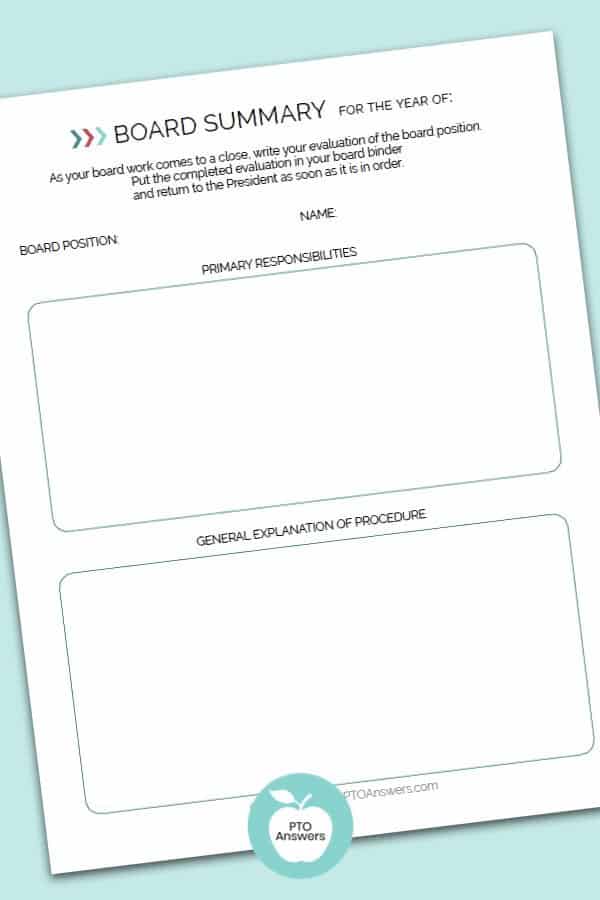 Inside the Success Kit, you'll find a hoard of resources, including multi-page event evaluation and officer forms for you to print off and share with your fellow officers and committee chairs.

These forms are really the "secret sauce" for your PTOs' long term success.

And that's because with these forms, future officers and leaders will know what you did and how you did it.

They can take the information to build upon the events going forward, instead of wasting time re-creating the wheel!

So get the Success Kit or make up your own forms.

Either way, write down the information because nobody can get the information otherwise.
Clean out and organize your binder
Even if you are the most organized person in the world, your binder can probably stand a little tweaking before turning it over to the incoming leader.

Go through it and make sure everything is in its place.

Hole punch papers that need to be put into the binder and file accordingly.

Make it all pretty like you'd want it to be if you were getting it for the first time.
Return PTO Property
Gather up all the items that belong to the PTO that are hanging out in your house and the back of your car: the box of sharpies, the leftover plates from the staff appreciation luncheon, etc.

Return them to the PTO storage closet at school and get them out of your personal space.
What Not To Do
To be perfectly blunt, don't be a jerk and pitch and erase everything!

This year, I was the incoming President for a PTA.

The previous year's Executive Board used a Google Drive and had a Gmail address just for the President.

But before giving me the password, they deleted everything in the email and Google Drive!

Instead, they put everything on a flash drive.

That required me to re-start everything by uploading everything.

It was a mess and, frankly, a complete waste of time, when they could've just given me the passwords and be done with it.

It took hours to get everything back up there, ensure I hadn't duplicated files and make sure I had transferred everything.

Now all the creation dates for the files are the same, making it a bit harder to find what I'm looking for since it's not possible to filter by date.

So, don't be like that.

Clean out anything personal and turn everything else over.
Watch this!
Over to you!
Is there anything else you routinely do before leaving office? Let me hear about it in the comments!
Resources You Might Be Interested In