One of the most important roles in the PTO is the Family Events Chair.

And that's because it's the key to increased family and parent engagement and also for padding your volunteer base.

Really terrific PTO family events are the perfect way to spotlight how well your PTO is working.

They can act like a beacon of light, attracting parents who've never been involved with the PTO before.

All parents want the best for their children.

Some will go to ridiculous lengths to make their kiddos happy.

That's probably one of the reasons why you're involved in PTO, right?

You see the power of the PTO to effect the school in such a positive way, bringing new opportunities to the kids that wouldn't otherwise be possible.

And that's what PTO sponsored family events are: opportunities for students and families that most likely wouldn't happen!
Plan over the summer
Don't be tempted to take a nice long break from all things PTO over the Summer Break.

Start planning your awesome schedule of family fun events over the Summer.

In the short time, that'll be nice, but you'll be scrambling to put all of the pieces into place in the Fall if you do that.

Do some research and start planning out each of the events so you'll be ready to execute the plans when school starts.

The best events take more time to plan and lay out all of the details than they do to put them on.

So make sure you're giving yourself enough time to map everything out!
Good events don't have to be expensive
If your PTO doesn't have a huge budget to work with for family events, this shouldn't stop you from putting on wonderful events that everyone will enjoy!

In fact, I've got over 50 low cost family fun events for you right here!
Think outside the box
Don't be afraid to try something new for your PTO!

If attendance has dropped over the past year for events your PTO has been putting on for a while, then you'll want to freshen things up a bit!

Don't be afraid to try something new!

Think outside the box for new and different events that your group hasn't put on before.

What do you have available in your area that you can take advantage of?
For example, here in Cleveland, we have three Major League sports teams, the Browns, Indians and Cavs.

They have Pep/Scream Teams that will come to community events for free.

As long as you call early to get on their schedule, what a nice addition to any event this would be!

How easy would it be to add in a Pep or Scream Team to your Family Tailgate event you've had for years?

Something relatively small like that can be just what's needed to freshen up the event!
Need even more inspiration and help?
If you need even more inspiration for a fresh family fun events, don't hesitate to pick the minds of others.

The members of the PTA/PTO Super Stars Facebook group always have an idea for you!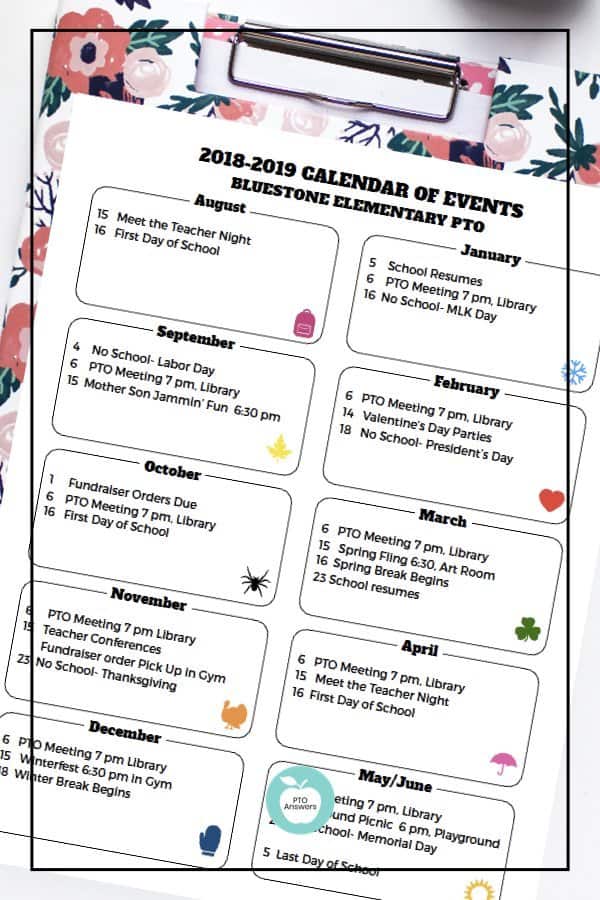 Promote Your Events
The next aspect all Family Fun Chairs will want to pay special attention to comes after the planning process.

Once you have the location, date and time nailed down, start promoting the event to families.

Families are busier than ever, so advance notice for all PTO events is a must!

Another benefit to having your entire event plan for the year in place before school starts is that you'll be able to provide a calendar of events to every family at the start of school.
In addition to the Calendar of Events, you'll also want to send home flyers to get the event promotion party started!
Know who's coming
Next, for sanity reasons especially, it's a good idea to get some kind of an idea of who is coming to events.

Put some sort of a RSVP system of some sort:

Send home a flyer with a tear off response form.

Or embrace technology and use Evite to collect responses.

Create a Facebook event and invite parents who follow your PTO page to attend.

Know that your response rate is never going to be 100% unless you implement a ticketing system.

And that has a whole host of headaches associated with it, so maybe don't rely on tickets for every event.

Instead, know that in most cases you'll probably get anywhere from 25-50% more people showing up than responded.

The actual percentage will vary, but you'll be able to see a pattern after a few events.

Weather has a lot to do with it, so keep that in mind as well.

After you use a RSVP system for a few events, you'll be able to plan accordingly!
Start the Year off Strong
The very best Family Event Chairs know that starting the year off with a crowd drawing favorite is the easiest way to set a fantastic tone for the new school year!

Back to school time is a busy one, but don't be afraid to work in a little fun.

Try something simple like a Blacktop Bash.

Use part of your PTO budget to provide pizza and paper products.

And ask families to contribute a side, salad, dessert or drinks.

You can even make specific grade level requests to ensure you get a nice potluck distribution.

What ever event you choose, make it a fun one to start the new school year off right!
Stick to Your Budget
This should go without saying, but I'll say it anyways…

Always be mindful of your allocated budget and don't overspend!

This isn't your personal money that you're spending.
If you're used to living in a budget-free world, you're going to have to adapt now!

If you do go over budget, know that you're risking having to pay for it personally.

You may not get reimbursed unless there's a provision in your PTO Bylaws and Standing Rules!
Work around other programs.
When planning out your year of activities, make sure to work around other PTO events. Avoid conflicts as much as possible.

Make sure to look at the district calendar as well to see what's going on at other schools.

Also avoid filling up the calendar with multiple events in a single week if at all possible.

Families may have other school events to balance on their schedule that week.
You don't want low attendance because families can't handle having three PTO events in a week.

On the other hand, it may make perfect sense to schedule a family event on the same night as the PTO meeting or the fundraising pick up night.

Try having a short PTO meeting during the Bingo Night intermission, for example.

Or host an open Gym Night on fundraiser pick up night when parents will be coming to the school anyway.
Make sure to spread your events out.
There's really no ideal timing for events.

It all depends on your volunteer base and what your families are interested in.

Plan too many events and you could burn everyone out.

Aim to put on no more than one family event per month to keep everyone sane!
Keep things simple during busy times
In especially busy months like November and December, it's smart to decrease family event activities to every other month.

Families will be busy getting ready for Thanksgiving and Winter Break and probably won't have time to come to an event.

If you do choose to put on an event in November, December, or the last month of school, keep it simple!

Remember, epic doesn't have to be complicated!

Simple can be fantastic!
Finish the year strong
In the Spring semester, you'll want to continue offering monthly events.

Another benefit to pre-planning everything during the Summer is that you are less likely to get burnt out and totally drop the ball with events in the Spring semester because you've had enough.

Continue to plan one event per month or one event every 5 or 6 weeks throughout the Spring semester.
Watch this!
Over to you!
And now you have some strong guidance on how to be a really awesome PTO Family Fun Events Chair!

What are some of your school's favorite family fun events?